Digital marketers are busier than before in Africa. The COVID-19 pandemic and the new Delta variant have created unprecedented opportunities for digital marketers but also colossal failures. Consider the case of Nana who runs a unique cake store on a very busy street in Kumasi, Ghana. On the average, her store receives about 27 customers per day. Most of her customers are middle-aged or elderly people who seek healthier options for cakes and pastries. These customers often drive by the store after closing from work or when taking their evening stroll. However, Nana, just like everyone else, did not plan for the global pandemic. During the lockdown, Nana received calls from her customers but without a physical presence, she could not attend to their requests. She hired a digital marketer to launch a campaign to introduce her new online store for cakes and pastries. The results are dismal. Nana is wondering why the digital marketing efforts failed. Several digital marketers in Africa are presently in Nana's situation. Is this surprising? Here are three trends shaping digital marketing in the continent.
Digital buying is growing in Africa. A study by Bizibl Marketing entitled ''Attract the Changing Face of the Online Consumer: Millennials and Baby Boomers,'' shows that 72% of millennials carry out research about a company online before visiting its physical store. Research also shows between 2020 and 2021, there was a 22% increase in both the numbers of Internet and social media users in Nigeria. In Côte D'Ivoire, though the population as of January 2021 was 26.7 million, there were 37.16 million mobile connections in the country; that is about 139.1% of the country's population. Now, it means that Chinonso–a recent Nigerian graduate who makes handbags out of recyclable waste materials – has the possibility of reaching 3.3 million people if she targets 10% of active social media users in Nigeria. 
Informal Retailing is growing faster than E-commerce in Africa: Although the pandemic increased the digitization of businesses on the continent, e-commerce still accounts for less than 5% of retailing activities in all countries of the continent with Egypt leading at 3%. Informal retailing in brick-and-mortar outlets, street corners and open-air markets continues to rise and account for over 90% of retailing activity on the continent.
Africa Online Shoppers are Product and Service Sensitive Buyers: African shoppers who would ordinarily buy a wide variety of products and services offline are very sensitive and specific about what they choose to buy online. Groceries, beauty products and electronics are the most purchased items online. Online shoppers who live in countries with a falling consumer sentiment index purchase different products from those with a rising index in the continent. For example, Kenya and Nigeria have dropped consumer sentiment indices. The top purchased items online in Nigeria as of 2020 are data- top-up, clothing, beauty products and groceries. In Kenya, the major items over the period include groceries, electronics, educational toys, and beauty products. The picture is different in South Africa and Egypt where consumer sentiment is rising. South African online shoppers predominantly purchase pet accessories, jewelry, smart watches, and men's beauty products. Egyptian online shoppers purchase computer equipment, sports items, and books. These trends suggest that not all products or services in Africa will succeed if they go online.
Why do Digital Marketing Campaigns Fail in Africa?
Several reasons explain why digital campaigns fail in the continent. However, three issues stand out.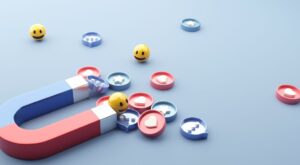 Not Aligning the Campaign with the Company's Long-term strategy

: Many digital campaigns focus on short-term gains and fixate on the wrong metrics for success. The economic uncertainties of the global pandemic have also worsened the search for short-term success. This short-term mindset leads to poorly tailored, disjointed campaigns that are misaligned with the long-term strategies of organizations digital marketers represent.
Using the Wrong Campaign Channel for the Right Message

: Several well-crafted campaigns cannot succeed due to channel misalignment. Wrong channels chase the right audience. 
According to a survey by TNS Digital Life, 54% of Kenyan consumers preferred to learn about products through social media channels but 60% resisted the intrusion of campaign adverts on their profiles. Some campaign managers do not understand how various social media channels influence shoppers. Different social media channels have different interaction effects that affect how and why buyers shop on the continent. Other campaigns messages go through the right social channels but do not respect the cultural and moral sensitivities of buyers.
Generating Poor Insights from Market Research

: Insight generation from data collection is difficult and expensive in Africa. There is a strong temptation for campaign managers and their clients to circumvent the painstaking insight generation process in favor of intuitive decision making. The effect is poor customer profiling, insufficient knowledge of actors in the buying process, poor targeting and misdirected messaging.
How Can Digital Marketing Campaigns Succeed in Africa?
Campaign strategies can succeed in Africa if digital marketers take care of some fundamental issues.
Don't shy away from analytics and insight generation:

Generating the right insights from data analytics can keep digital marketers busy and productive for several years. Insight-driven research can help to identify future and unexpected buyer needs, target creative consumers

and purchasing cultures of the prospective customers. An outstanding example of a digital campaign emerging from insight generation is Airtel's '

'Data is life''

campaign. Noah's Ark Communications Limited conducted a significant amount of research and insight generation to come up with a serial campaign that has increased customer patronage for the Airtel brand.  
2. Stay focused on the brand and corporate mission: Digital marketers should have the answers to three questions before designing a campaign for the client. 
How aligned are the corporate and brand mission statements of the client?

What is the unique selling proposition of the campaign and how does it fit with the value proposition of the brand?

What stage is the brand in its life cycle?
Addressing these questions before a campaign is the first step towards avoiding the short-term syndrome that is prevalent in the continent.
3. Practice What You Preach: Nothing frustrates customers more than experiencing unnecessary hurdles when watching digital campaigns. Digital marketers must realize that mobile unfriendly, long, and unsolicited campaign adverts can make or mar a customer's perception of the proposed offering. Digital marketers also must decide on how to align online campaigns with the offline purchase experiences. Customer brand and purchase experiences offline are usually a far cry from the great promises of digital campaigns. Digital marketers set themselves up for failure when their clients don't practice what the campaign messages preach. Ensuring value congruence should be a top priority for digital marketers. 
4. Engage Real Time and Act on Customer Feedback: Digital marketers on the continent put a lot of time into launching campaigns but less time into engaging customers during and after the campaign. Feedback sells! One of the fastest and most reliable ways for shoppers to determine whether to purchase a product or service is by reviewing the feedback or testimonials from other people who have used it. In this era of digital marketing, ample customer reviews abound on the internet. These reviews create strong, and often indelible, impressions in the minds of potential shoppers. It is important for digital marketers to create the infrastructure for real time engagement with target customers. A product or service that enjoys consistently favorable ratings by customers online is a lot more likely to convert strangers or potential buyers online.
Digital marketing options in Africa are many, the reach is endless, and the cost implications are flexible, depending on the budget. As the Delta Covid variant spreads, the time has come for digital marketers on the continent to rethink their strategies or face extinction.
Sources: