Consumers in Africa are becoming more erratic than ever. For instance, Igho, a 55-year-old Nigerian father of four, spends much of his airtime playing computer games for young children. This new customer group, which MTN Nigeria has affectionately dubbed "kid-adults," has been identified as those who have not yet outgrown their adolescent tendencies. A 31-year-old Kenyan tech expert, Angela occasionally works as a cook, a church pastor on the weekends, and a party organiser in the evenings. Africa's consumers are quickly turning into movable targets.
The instability in consumption patterns across Africa is also fueled by economic hardship. Many areas of the continent have experienced skyrocketing inflation over the past year. Due to the severe cash scarcity, card-based purchases have replaced cash transactions in Nigeria, where inflation is at 21%, the highest level in 16 years. The complexity is also growing due to the unstructured nature of African consumer marketplaces. It is more difficult to gain clients in unstructured markets due to poor financial record keeping, a lack of data, contract evasion, and cash-based transactions. In Africa, the circumstance has made the war over retail more and more ferocious. Too many companies are vying for the African market's tiny and steadily declining share. Marketing choices without data will be even more disastrous as customers become more unpredictable.
According to an African saying, a hunter with only one arrow does not shoot carelessly. The only way to be precise is through data. Several African brand owners have burned their fingers through poor data investments. Finding precise, timely, relevant, and reliable data to identify and keep Africa's constantly changing clients is still widely believed to be a difficult and hazardous investment. How can African brand owners make a profit from their investments in data? A change in perspective regarding data is the first step in wise expenditure. Three errors hamper the brand owner's capacity to use data for long-term client engagement.
The first error is to define data as filtered, unadulterated, and pure information that can be plotted on a graph. These definitions need to be more accurate and substantially restrict our ability to identify the data sources for Africa. On the other side, fresh opportunities open if one views Africa's data as the new oil. Think about a brand that operates in Nigeria's unstructured markets and sells its products at retail stores. The brand experimented with convertible and accessible data rather than spending money on retail audits. Within a month, it collected 10,000 receipts that customers in the Lagos state neighbourhoods of Mowe, Lekki, and Ibafo had dropped on the ground after making purchases. By converting photos to text using OCR technology, the brand eventually disclosed the highest average basket value of sales across locations and by days of the week.
A different brand in Kigali developed its route to market and resource deployment using satellite imaging data of the Google building. There is also a large amount of point-of-interest data produced by the Bill and Melinda Gates Foundation. The data source identifies the nationwide distribution of hospitals, schools, and markets in Nigeria and other African nations. Similar to how crude oil is refined, data on the continent must be modified, repurposed, and positioned to satisfy commercial requirements. Brand owners who define data otherwise than the competitors have a distinct advantage over those who do not.
By analysing the data wrongly, we make a second error. Without understanding, data has no value. Deep consumer engagement only occurs when brands are devoted to servicing the customer, enabling brands to ask the right questions. African brand owners know this but frequently pay attention to operational back-end issues. These issues include power production, obtaining working cash, and security. Although controlling externalities is crucial, brand owners must find the perfect balance to encourage intense consumer involvement. Asking the right questions will result in insights that produce long-term gains. Brand owners can assess the incremental growth, cost savings, and process efficiency that investments in insight projects will deliver.
Keeping internal data private is the final error. Data sharing by brand owners is frequently met with resistance. Some do this to avoid competitive threats, while others do it for tax concerns. Nevertheless, for African data to be valuable, it must be interconnected. The ability to utilise data is severely restricted by silo storage, whereas sharing data with reliable partners can significantly boost the possibility of producing the appropriate insights. Four factors are essential for brand owners to prepare for a mentality change to guarantee high returns from data investments.
Competence: Brand owners must develop the skills to comprehend how data is transformed into insights. To recognise connections between different data patterns, competency training is required. For instance, South African retail decision-makers are starting to create hypermarket planograms using shelf and eye-view analyses. By investing in competency development, brands will become more deliberate about comprehending consumer behaviour. A Master's in Data Science offered by the Pan-Atlantic University School of Science and Technology sets the bar by fostering data proficiency in African businesses.
Context: Brand owners need to be aware of the kinds of data accessible in their environment. The data from Africa is only sometimes clean and suitable for immediate use. To be eligible for a purpose, data must be reformatted. Knowing the context of the data might produce surprising and novel insights. For instance, a company that purchased retail audit data in Nigeria discovered that the information was primarily based on point-of-sale data and could not explain why the brand performed better than competitors in specific locations. The firm then used the Nigeria Interbank Settlement System data to glean insights into consumer buying patterns and motivations. The company used power BI to analyze the data for January 2023 and discovered some unexpected results. Sundays accounted for 25% of the overall volume of transactions in its locations, with Tuesdays coming in second at 15%. Moreover, only on New Year's Day did 9% of transactions occur. A summary of the data is shown in the dashboard below.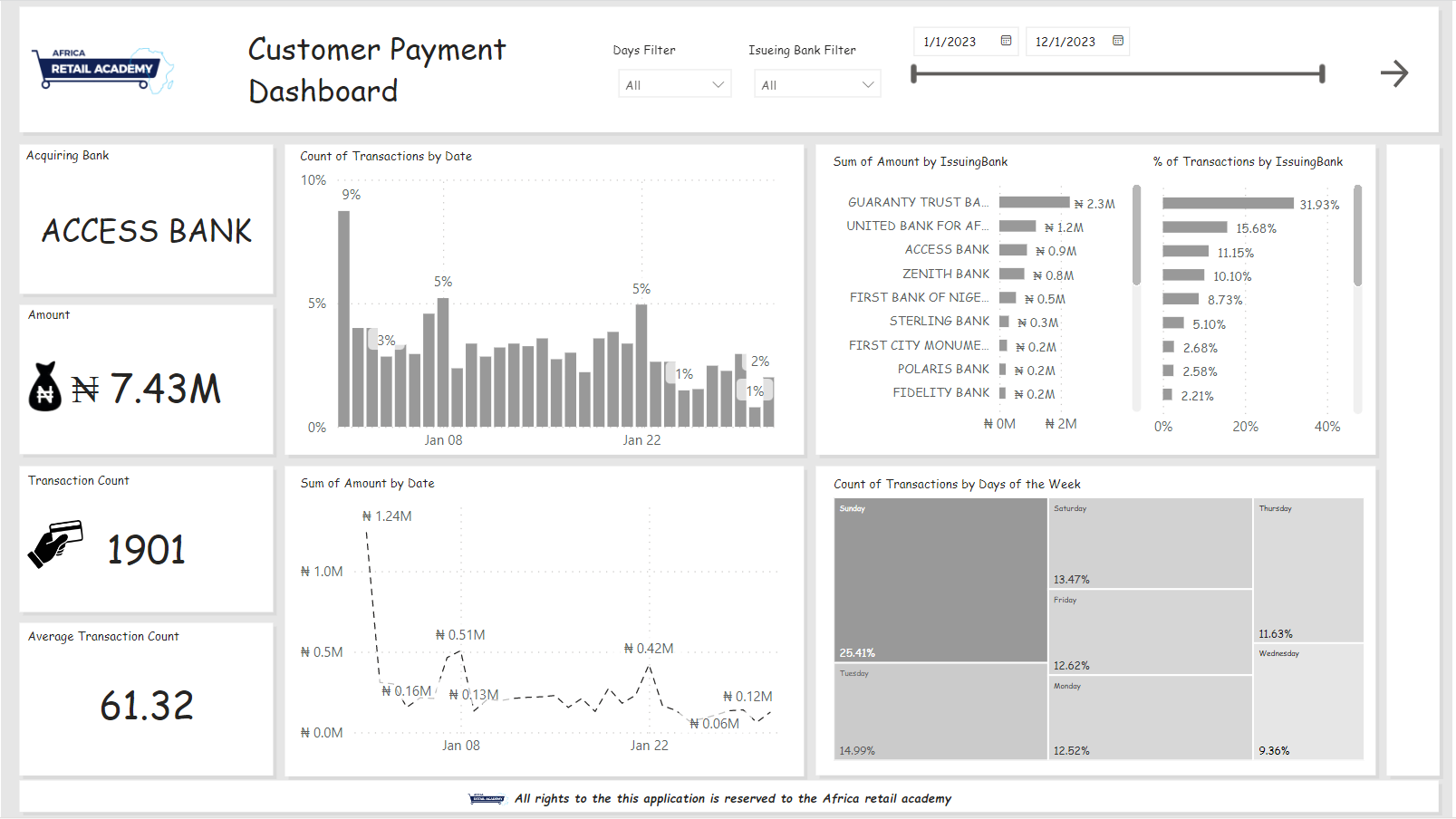 Clicking the link will also allow you to interact with the data. Understanding the context can assist brand owners in prioritising their data-sourcing channels because not all data is meaningful.
Collaboration: As businesses compete more fiercely for African consumers' money and the requirement for accuracy in data investments grows, teamwork is unavoidable. The days when brands could hide data are long gone. A brand in the banking industry in Nigeria discovered that its sales force had been collecting retail data for the bank's technology, marketing, and finance teams for years. This segmented data transmission approach limited the bank's potential for growth. An ecosystem that supports and extracts valuable opportunities from data is necessary. Combining data from many channels can be highly beneficial. The key to unsuccessful investment spending is hiding data.
Culture: Owners of brands must create data-centric organisations. African businesses must have data and insight generated in their DNA. The endeavour is challenging for brands operating in the continent's unstructured markets. The first step in creating the correct data culture is deciding the skills and talents that brand owners require to bring about a mindset shift.
African brand owners are too accustomed to using data they can quickly deploy, while the real opportunity lies in refining data they can't. Brand owners that capitalise on the latter will reap more rewards.
Authors
Uchenna Uzo, Professor of Marketing and Academic Director, Africa Retail Academy, Lagos Business School
Olubayo Adekanmbi, Founder & Lead Consultant, Data Scientists Network, Nigeria
Jubril A. Salaudeen PhD, Executive Director, Marketing and Sales, Citiserve Ltd.
Ephraim Nwokporo, Research and Teaching Assistant, Lagos Business School